The Right To Know Act and More
---
- New York 07/14/2016 (WBAI)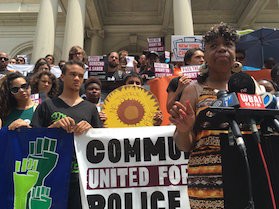 — Political News du Jour recent polls and issues gearing up to the Republican National Convention
— Donald Trump's rhetoric is hurting NYC and NYS says NYC Council Speaker Melissa Mark-Viverito
— Whitehouse reaches out to new British leaders
— President Obama marks the anniversary of the Iran Nuclear Deal
— GMO labeling legislation went to the Whitehouse for signing.
— K-2 use in Brooklyn and what officials are doing about it.
— The Right to Know Act: Police Reform Advocates criticize what they say was a backroom deal between the City Council Speaker and the Police Commissioner which stopped a vote on the set of bills. They held a rally at City Hall. Meanwhile on Thursday the Speaker said, "The legislation option is still open."
— The City Council voted on two pieces of legislation which came out of The Right to Know Act. They require the NYPD to report use of force incidents and deployment of officers with complaints against them.
— As the country continues to grapple with the scourge of gun violence and illegal guns on our street, East Flatbush hosted a town hall. WBAI News intern Manny Reid reports.