Bernie Sanders Endorses Hillary Clinton - President Obama Speaks Openly on Race, Police and Fighting Cynicism
---
- New York 07/12/2016 by L Perry (WBAI)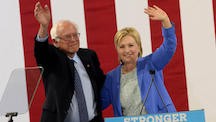 —Bernie Sanders endorsed Hillary Clinton for President of the United States in New Hampshire today. Sanders said, "Together we have begun a political revolution and that revolution continues." He thanked volunteers and contributors and then said "Secretary Clinton goes into the Convention with 389 more delegates than we have and a lot more super delegates. Secretary Clinton has won the Democratic nominating process and I congratulate her for that. She will be the Democratic nominee for President and I intend to do everything I can do to make sure she is the next President of the United States." Sanders said it is no secret that there have been disagreements between the two camps but, "we produced by far the most progressive platform in the history of the Democratic Party." Setting the agenda Sanders said, "Our job now is to see that platform implemented by a democratically controlled Senate, a democratically controlled House and a Hillary Clinton presidency."
—For Green Party Presidential Candidate Jill Stein this is a missed opportunity. "I join millions of Americans who see Hillary Clinton's campaign as the opposite of what they and Bernie Sanders have fought for."
—Also today Barack Obama spoke candidly about police and race relations at a Memorial for slain officers in Dallas, "I'm here to insist that we are not so divided as we seem." He said tensions between police departments and minority communities are because we ask police departments to do too much, and ask too little of ourselves.
—Please click above to listen.