"Harlem is Baton Rouge and Baton Rouge is Harlem!"
---
- 07/07/2016 by Linda Perry (WBAI News)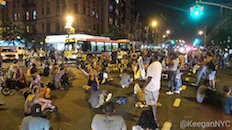 Thursday evening, over one thousand people gathered throughout NYC to protest recent deaths at the hands of police. "Rise Up. Stop Police Terror!" "Our streets! Our blocks! We don't need these killer cops!" "Hands up don't shoot" shouted frustrated and angry New Yorkers.
In Brooklyn, Delrawn Small was killed by off-duty police officer Wayne Isaacs during a traffic dispute on July 4th. Police say the 37 year old black man was punching the officer when Isaacs took out his revolver and shot and killed Small. Video released on Friday contradicts this claim. It shows Small being gunned down by Isaacs who fired two shots through his car window at Small as he approached Issac's vehicle. Family attorney Roger Wareham said, "There's no justification for an unarmed man to get shot." He said the video confirms the shooting was a "cold-blooded murder." The family in grief is looking for justice.
On July 5th in Louisiana, Alton Sterling who was selling CD's near a convenience store was pinned down by two Baton Rouge policemen, Blane Salamoni and Howie Lake II. Then he was shot and killed. No attempt to save him was made. The two officers had four previous "use of force" complaints against them, but were still on the police force in Baton Rouge. The Justice Department is investigating. The takedown and gruesome shooting by police was captured on cellphone video and widely seen.
Then there was Philandro Castile in Saint Paul, Minnesota. The 32 year old Montessori cafeteria supervisor was shot and killed during a traffic stop by police on Wednesday. His fiancée, Lavish Reynolds with her 4 year old daughter in the car, calmly recorded on Facebook live. She says, "Please, officer, don't tell me that you just did this to him. You shot four bullets into him, sir. He was just getting his license and registration, sir."
People who watched that video and the one showing the death of Alton Sterling had no words for the sorrow, for the pain, frustration and anger over yet another person of color killed by police this week. They took to the streets in Louisiana in Minnesota in Texas.
Here in New York, protesters held photos of Akai Gurley, Mike Brown and Eric Garner mixed with photos and names of those killed in recent days by police, more names added to that club of names with hashtags.