- NYC 06/24/2016 (The White House, AP)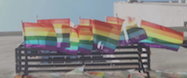 President Barack Obama designated the site of the Stonewall uprising and birthplace of the modern LGBT civil rights movement the "Stonewall National Monument," at Christopher Park, just across from The Stonewall Inn in the Village.
President Obama says, "This new monument is a testament to the diversity, inclusiveness, and individual freedom that make America great" It honors the gay rights struggle where the uprising took place after police raided the gay bar in 1969.
"I'm designating the Stonewall National Monument as the newest addition to America's national parks system. Stonewall will be our first national monument to tell the story of the struggle for LGBT rights. I believe our national parks should reflect the full story of our country – the richness and diversity and uniquely American spirit that has always defined us. That we are stronger together. That out of many, we are one." -
Designating the small area marks a major act of national recognition for gay rights advocates and their struggles over the last half-century. In addition to the Supreme Court decision, since the 1969 uprising the U.S. has enacted anti-discrimination protections, allowed gays and lesbians to serve openly in the U.S. military and seen prominent athletes and entertainers come out of the closet.
It also comes as the gay community comes to grips with a fresh and agonizing reminder of ongoing threats to their safety. In announcing the monument, the White House said the mass shooting at a gay bar in Orlando, Florida, illustrated that LGBT people still 'face acts of violence, discrimination and hate."
New York Gov. Andrew Cuomo joined gay rights groups in praising the new monument, along with New York lawmakers who had long advocated for a national designation. Last year, New York City made it a city landmark — the first named primarily because of significance to LGBT history.
"Stonewall is finally taking its rightful place in American history," said Rep. Jerrold Nadler, D-N.Y., who had advocated for federal recognition for the site.