First Lady Michelle Obama addresses City College of New York Class of 2016
---
- City College, NYC 06/03/2016 by Linda Perry (WBAI News)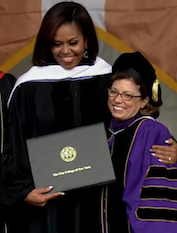 The First Lady delivered her very last commencement speech at City College in NYC today. She says she chose City College for the diversity it represents with more than 150 nationalities and more than 100 languages. Mrs. Obama says even though students at the college have experienced challenges, 'unlike so many young people, you have already developed the maturity, the muscle to move through obstacles, to move through pain.'
Obama says, "Nothing is going to stop you from fulfilling your dreams," but with those successes comes a set of obligations to use opportunities to help others and to speak out and make your voices heard.
Michelle Obama acknowledged funding cuts at City College which throws roadblocks at students and faculty. She said it's important to "make sure that universities like this one have the funding they need, because we all know public universities have always been the drivers of our prosperity."
And Michelle Obama drew on her experience visiting countries where dictators and those who oppressed others were in power to blast the Republican Presidential nominee. "I have seen how leaders who rule by intimidation often do so, because they have nothing else to offer and I've seen how places who stifle voices are less vital, less hopeful, less free. Graduates that is not who we are .. Here in America we don't let our differences tear us apart."
Please click above to hear Michelle Obama's full commencement speech.