Notes From The Left Forum: Medea Benjamin
---
- New York City 06/02/2016 by Linda Perry (WBAI News)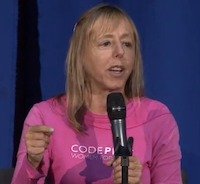 —Medea Benjamin addressed the Left Forum in New York City at a plenary entitled Capitalism and Militarism—At Humanity's Peril: Organizing Our Power.
— When President Obama came in the Peace Movement died according to Benjamin. "There are no illusions that Hillary Clinton or Donald Trump are going to be the peace presidents, that they are going to get us out of the endless wars, but they give the peace movement an opening."
—Speaking to the change that's needed out of a war economy, Benjamin said "We will only give peace a chance when we challenge those in power and replace the war economy with a local peace economy."
—Notes from the Left Forum is a new series produced at WBAI Radio News in NYC. Thanks to Brian Drolet at Deep Dish TV and Seth Adler and associates at the Left Forum.