New York City Council Passes the Criminal Justice Reform Act
---
- New York City 05/25/2016 by Linda Perry (WBAI News)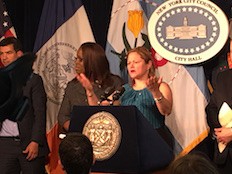 The New York City Council passed a set of bills which will reduce the penalties for broken windows style offenses.
The Bills give the NYPD the option of issuing civil rather than criminal summonses for low level offenses. These include open container of alcohol, littering, public urination, being in the park at night and unreasonable noise.
Please click the arrow above for our report.