- 05/11/2016 by Rick Coss (WBAI)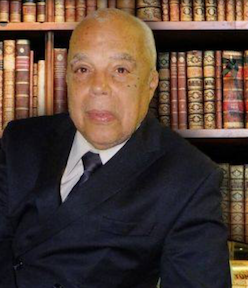 Today my mentor, friend and brother Ramon Jimenez transitioned from this world, my heart is stricken heavily with emotions yet, at the same time I feel relieved that my brother no longer has to suffer and endure such pain from having to deal with the cancer that was consuming him. He fought hard as he always does until the very end and those of us who know him and for those who don't, this was his nature to be a fighter not a quitter.
Ramon Jimenez grew up in Queens. He had few heroes he looked up to, one being his father & mother, the other was Don Pedro Albizu Campos and his neighbor Malcolm X, who lived across the street from Ramon.
As a young boy, Ramon experienced his first protest which was against him and others. It consisted of whites against integration and student bussing, in a time period full of race riots and violence. Ramon and many other Afro-Latinos/Americans were spat on as they got off the busses to walk into school. It was that experience that catapulted Ramon to stand up and begin having protests & demonstrations of his own.
Ramon took his education seriously, as he later became a Harvard law graduate and landed a job as a law professor for Hostos Community College.
In 1976 he and others organized one of the biggest demonstrations in CUNY history. He helped takeover the school along with other faculty members and students. It lasted 19 days before ending with a tremendous victory. Ramon later moved on to becoming an administrative law judge for workman's compensation and afterwards he began his own practice with his own office just across the street from the college he helped save.
Ramon would say, I didn't adopt the Bronx the Bronx adopted me and embraced me and so, this is where I belong, this is my home.
Ramon practiced law helping everyone & anyone from all walks of life who came to him for his counsel. He didn't care what color you were or your ethnic background because he genuinely cared for people and believed in bringing people together for social justice.
Ramon became the people's lawyer doing pro-bono work especially for the poor and disenfranchised, he fought for the rights of tenants, he fought against social injustices, fought against stop & frisks and police abuse & misconduct, fought against mass incarcerations, fought for the freedom of political prisoners and continued to call for the release of Oscar Lopez Rivera, he was always supportive for a free and liberated Puerto Rico from U.S. colonial rule.
Ramon fought for workers rights helping The Band of Brothers, cemetery workers against a racist management who discriminated & retaliated against black & latino workers including white workers that supported them. His legal counsel and background as an activist helped bring many other organizations & groups together collectively to achieve a victory for the Band of Brothers.
Ramon ran for Attorney General under the Freedom Party alongside of Charles Barron. He then stood up to the Coors beer company for putting the Puerto Rican flag on beer cans, degrading the symbol of our culture and it's people. Coors made an apology, stopped distribution and removed the cans. This led to an array of corruption and misappropriation of funds with the organizers of the Puerto Rican day parade. Ramon spearheaded as legal counsel for Boricuas for a positive image, together with many other activists & organizations including elected officials such as NYC Council Chair, Melissa Mark Viverito; the parade organizers came under investigation with the Attorney Generals office and were found guilty. This resulted in monetary penalties and the appointment of new members of the board for the PRDP.
Ramon took another shot at Attorney General running under the Green Party alongside Howie Hawkins. Despite the fact that he had been diagnosed with stage 4 cancer, he continued on as he said, "I could be home sulking and feeling down, but instead I've decided to fight because the moment is here so, I'm going to fight cancer, fight the Republicans, fight corruption and fight Cuomo..palante!!
He fought the fight of fights and I commend my brother. Please keep Ramon's family in your thoughts & prayers, know that he is now organizing the angels to fight the evils he fought so valiantly against here on earth, Ramon will live among us all who stand up for social justice and his spirit will be with us on the front lines of every demonstration & protest.
Thank you Ramon your memory and legacy lives on....
Palante Siempre!!.