Bernie Sanders wins his 18th Primary
---
- 05/04/2016 by Linda Perry (WBAI News)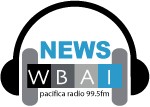 Even though mainstream media is calling the Democratic presidential race all but over for Bernie Sanders, he picked up a significant win Tuesday night in Indiana. He won 53% of the vote to Hillary Clinton's 47%. This gives Sanders 93 more delegates.
"The Clinton campaign thinks this campaign is over." said Sanders in a statement Tuesday evening. "They're wrong. Maybe it's over for the insiders and the party establishment, but the voters in Indiana had a different idea. The campaign wasn't over for them. It isn't over for the voters in West Virginia. It isn't over for Democrats in Oregon, New Jersey and Kentucky. It isn't over for voters in California and all the other states with contests still to come."
Sanders wants to debate Clinton in California later this month. Not counting superdelegates, Hillary Clinton has 1,701 and Bernie Sanders has 1,417 delegates. 2,383 are need to win the Democratic nomination.
On the Republican side, Ted Cruz dropped out of the race. On Tuesday evening he said, "We are suspending our campaign, but hear me now. I am not suspending our fight for liberty."
Then on Wednesday, Ohio Governor John Kasich stopped his bid for the nomination. This after Donald Trump swept delegates in Indiana. The billionaire claimed victory at Trump Tower in NYC Tuesday evening.
While Trump is arguably one of the most divisive candidates in modern politics, he said "This country which has become divided in so many ways is going to become one loving country and we're going to love each other; we're going to cherish each other."
Donald Trump is now the presumptive GOP nominee for President.