Union Members Are Looking Forward to May Day in Havana
---
- Havana 04/30/2016 by Linda Perry (WBAI News)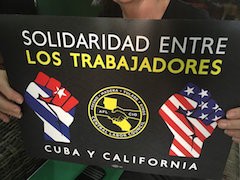 Tens of thousands of Union Members from the United States are in Havana to join International Workers' Day. From NY 1199 is represented. Others include members and officers from the AFL-CIO from California and Maryland.
Donna S. Edwards with MD State and DC AFL-CIO says, "This is an extraordinary opportunity to celebrate a worldwide labor movement with trade unionists from around the world."
Royce Adams with the International Longshoreman's Association, ILA, says "Tomorrow is one of the greatest days for working people since 1896 in the fight for the eight hour work day. We're here in Cuba celebrating May Day in Cuba in solidarity with the workers in Cuba."
Cheryl La Bash with AFSCME says "It's time for there to be an end to the blockade. Many people think because President Obama has come to Cuba that the economic, commercial and financial blockade imposed by the U.S. againt Cuba is gone. That is far from the truth. The wonderful delegations from AFL-CIO Councils from East to West Coasts shows the U.S. labor movement is ready to be heard on this critical struggle of our time."