Memories painful on Chernobyl's 30th anniversary
---
- Kiev, Ukraine 04/26/2016 (AP)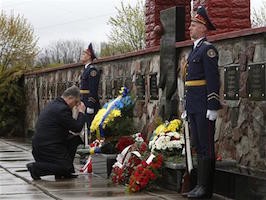 As Ukraine and Belarus on Tuesday marked the 30th anniversary of the Chernobyl nuclear accident with solemn words and an angry protest, some of the men who were sent to the site in the first chaotic and frightening days were gripped by painful memories.
Ukrainian President Petro Poroshenko led a ceremony in Chernobyl, where work is underway to complete a 2 billion euro ($2.25 billion) long-term shelter over the building containing Chernobyl's exploded reactor. Once the structure is in place, work will begin to remove the reactor and its lava-like radioactive waste.
The disaster shone a spotlight on lax safety standards and government secrecy in the former Soviet Union. The explosion on April 26, 1986, was not reported by Soviet authorities for two days, and then only after winds had carried the fallout across Europe and Swedish experts had gone public with their concerns.
"We honor those who lost their health and require a special attention from the government and society," Poroshenko said. "It's with an everlasting pain in our hearts that we remember those who lost their lives to fight nuclear death."
About 600,000 people, often referred to as Chernobyl's "liquidators," were sent in to fight the fire at the nuclear plant and clean up the worst of its contamination. Thirty workers died either from the explosion or from acute radiation sickness within several months. The accident exposed millions in the region to dangerous levels of radiation and forced a wide-scale, permanent evacuation of hundreds of towns and villages in Ukraine and Belarus.