Bernie Sanders shared the stage at the Apollo with Harry Belafonte To Talk About Change
---
- New York City 04/11/2016 by Linda Perry (WBAI News)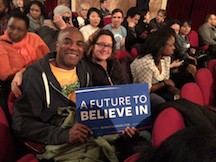 The Sanders campaign held a Town Hall inside the historic Apollo theatre Saturday evening, in advance of the New York Primary on April 19th.
New York Senator Bill Perkins started things off. He said the community has to "work-work-work, because the other side is working really hard."
Please click the arrow above to hear our report.