Today is Student Voter Registration Day
---
- New York 03/18/2016 (Council Member Helen Rosenthal)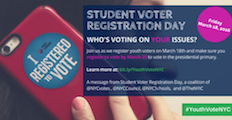 Student Voter Registration Day (SVRD) isl taking place in over 60 New York City public schools today, reaching more than 20,000 high school seniors.
NYC Votes, Council Member Helen Rosenthal, the New York Immigration Coalition, and the New York City Department of Education are urging NYC Kids turning 18 before primary or general election to register to vote; register online now! #YouthVoteNYC
Eligible students can register to vote, but regardless of citizenship status, everyone can get involved in issues that matter to them by volunteering or voting in Participatory Budgeting (PB).
The video below was created by Andy Suhl, owner of Circa Productions, and writer-producer Richard Kaplan.