He Didn't Expect It, but Bernie Sanders Won in Michigan
---
- 03/09/2016 by Linda Perry (WBAI News)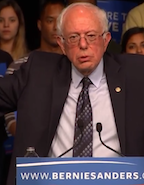 Bernie Sanders won the Michigan Primary last night, even though Hillary Clinton was leading in the polls. It was a narrow victory, but a victory nonetheless.
Sanders tapped into voter's concerns about the economy and energized blue collar workers and young people. 8 in 10 democratic voters in both Mississippi and Michigan said the country's economic system benefits the wealthy and this is the message Sanders has been hammering throughout the nation. His supporters see him as trustworthy and honest.
Sanders said Michigan shows his campaign, "is strong in every part of the country, and frankly we believe our strongest areas are yet to happen." At a Miami rally Tuesday evening, Sanders said, "I have a feeling you want to see this country move towards a political revolution."
In Mississippi, Clinton won easily with 83% of the vote. As with other Southern states, she crushed Sanders with the black vote. Not counting super delegates, Clinton has 760 pledged delegates. Sanders has 546.
Republicans don't have super delegates. Trump now has 458 and Cruz has 359. Marco Rubio has 151 delegates and John Kasich has 54 delegates.