- TAINAN, Taiwan 02/06/2016 by GLADYS TSAI (AP)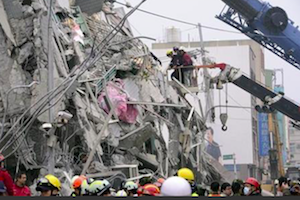 Rescuers were searching late Saturday for more than 100 people still missing after a powerful, shallow earthquake struck southern Taiwan before dawn, causing a high-rise residential building to collapse and killing at least 14 people.
Nearly 340 people were rescued from the rubble in Tainan, the city hit worst by the quake. About 2,000 firefighters and soldiers scrambled with ladders, cranes and other equipment to the ruins of the 17-floor residential building, which folded like an accordion onto its side after the quake struck.
Local authorities said Saturday night that more than 100 people remained missing and that rescuers were racing to find them. Taiwan's official Central News Agency reported that 172 people were missing.
The quake came two days before the start of Lunar New Year celebrations that mark the most important family holiday in the Chinese calendar. The collapsed building had 256 registered residents, but far more people could have been inside when it fell because the population might have swelled ahead of the holiday, when families typically host guests.
Local media said the building included a care center for newborns and mothers, and a newborn was among those confirmed dead in the disaster.
Most people were asleep when the magnitude-6.4 earthquake hit at about 4 a.m., 22 miles (35 kilometers) southeast of Yujing. It struck only 6 miles (10 kilometers) underground, according to the U.S. Geological Survey. Shallow earthquakes generally cause more damage than deeper ones.
Authorities in Tainan said that of the 14 people killed in the quake, 11 were found at the ruins of the fallen building.
The fall of the 1989 building immediately raised questions about its construction, and Taiwan's interior minister Chen Wei-zen, said an investigation would examine whether the developer had cut corners during construction.
Earthquakes frequently rattle Taiwan, but most are minor and cause little or no damage. However, a magnitude-7.6 quake in central Taiwan in 1999 killed more than 2,300 people.
___