Closer look at the Crisis in Flint, Michigan
---
- 01/22/2016 by Linda Perry (WBAI News)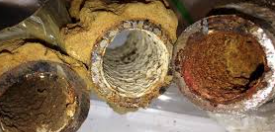 Michigan Governor Rick Snyder apologized to Flint residents for their lead contaminated drinking water in his State of the State address this week, but too little too late say Flint protesters who want him to step down. Flint Mayor Karen Weaver isn't casting blame. She wants additional resources, but she says the crisis wouldn't have happened in a different community, one which wasn't African-American, poor, with high unemployment.
This crisis began when Flint switched its water supply from the Detroit system to the Flint River in April 2014 to save money. There were complaints about the water within a month of the switch, but nothing was done until October of 2015 when the water was switched back to Detroit, after tests showed elevated lead levels in drinking water and in some of Flint's children.
Now even though water has been switched back, there's lead in the pipes says a Flint resident who is worried about his one year old child and his nephews. Just take a look at the photo of some of Flint's pipes, and please click above to hear our report.