Iran Nuclear Deal Enters into Force
---
- 01/16/2016 by Linda Perry (WBAI News)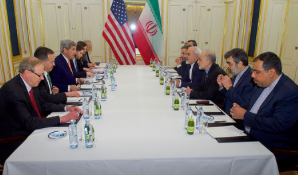 — Today in Vienna, US Secretary of State John Kerry, Iranian Foreign Minister Javad Zarif and European Union High Representative Federica Mogherini met on JCPOA, the Joint Comprehensive Plan of Action. The historic 2015 Iran Nuclear agreement curbs Iran's nuclear program in exchange for lifting economic sanctions.
This was just after Iran freed four dual-nationality prisoners, Washington Post bureau chief Jason Rezaian, Amir Hekmati, Idaho Pastor Saeed Abedini and Siamak Namazi in exchange for seven Iranian prisoners held in U.S. prisons.
By late afternoon, international inspectors confirmed that Iran dismantled large sections of its nuclear program as agreed in the accord. IAEA, International Atomic Energy Inspector YLukiya Amano said, "agency inspectors on the ground verified that Iran has carried out all measures required under JCPOA." EU High Representative Federica Mogherini said, "we worked hard and showed mutual commitment and collective will to finally bring the JCPOA to implementation.