THE HOLISTIC EDGE
---
2nd Wednesday of the month 10:00pm -11:00pm
Hosted by: Aracely Brown + Ralph White
Web Site:
http://www.opencenter.org/other-services/open-center-radio-show/
Facebook:
http://www.facebook.com/pages/New-York-Open-Center/76120593805
Twitter:
opencenter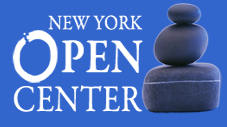 The Holistic Edge (Open Center Radio Show) with Executive Producer and
Host Enoe Aracely Brown with co-host Ralph White airs
on the second Wednesday of each month at 10pm.
The New York Open Center launched its monthly program on WBAI in September 2005 with a provocative and thought-provoking exploration of the influence of the religious far right on politics, sustainable living in NYC, and integrative medicine.
The New York Open Center, the city's leading center for holistic education and world culture, has been providing lectures, performances, training and more to the metropolitan community since 1984. It began as a single forum for ideas and experiences at the forefront of a shift in society's awareness that many aspects of life are not separate but profoundly connected.
Today, the Center's goal is to provide in-depth information to the New York-area community on topics that are normally not covered in-depth by other media.