TAHRIR: VOICES OF THE ARAB/MUSLIM COMMUNITY
---
Tuesdays 9-10 PM
Hosted by: Barbara Nimri Aziz, Sarah Malaika, Tamara Issak, Saadia Aslam, Reem Nasr and Hassen Abdella
Web Site:
http://www.RadioTahrir.org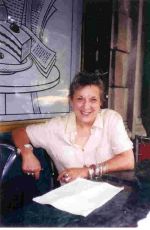 Program description:
Tahrir: Voices of the Arab/Muslim Community is a weekly radio magazine. We talk about our people in the homelands. We profile the growing community of Arab/Muslim activists, comedians, writers, musicians, prisoners in the USA. We announce local community events. We celebrate our talent. We build coalitions. We look back into history. We look ahead to our future alongside others. Many programs aired on Tahrir are drawn from the rich record of interviews which producer Dr. Nimri Aziz conducts on her frequent assignments into the Middle East. We have an active program to train young Muslim/Arab interns in journalism and community radio.
Host/producer profiles
Barbara Nimri Aziz, regular host and executive producer, is an anthropologist and writer. Working with other producers, Dr. Aziz is a frequent commentator on issues relating to the Middle East and the Muslim community.