FIRST VOICES INDIGENOUS RADIO
---
Thursday 9:00am-10:00am
Hosted by: Tiokasin Ghosthorse, Liz Hill (Producer)

Web Site:
http://www.firstvoicesindigenousradio.org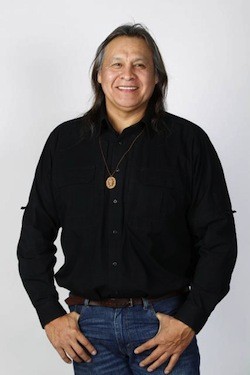 First Voices Indigenous Radio
was the first Indigenous radio program in the northeastern U.S., has been airing on WBAI for 11 years. With more than 1 million online hits annually, the program has become known for bringing to the airwaves the experiences, perspectives and struggles of Indigenous peoples worldwide whose exclusion from mainstream, progressive and alternative media is deleterious to the whole of humanity.
Tiokasin Ghosthorse is from the Cheyenne River Lakota (Sioux) Nation of South Dakota and the bands of Itazipco/Mnicoujou and Oglala. Tiokasin has been described as "a spiritual agitator, natural rights organizer, Indigenous thinking process educator and a community activator." One reviewer called him "a cultural resonator in the key of life."
Politics for the Lakota is spiritual and is not separate from the rest of life.
Tiokasin has had a long history in Indigenous rights activism and advocacy. He spoke, as a teenager, at the United Nations in Geneva, Switzerland. Ever since his UN work, he has been actively educating people who live on Turtle Island (North America) and overseas about the importance of living with each other and with Mother Earth.
FVIR has been re-broadcasted on 45 stations in 15 states in the the U.S. and one Canadian province, including:
Colorado, Connecticut, Idaho, Illinois, Iowa, Maine, Massachusetts, Minnesota, New Hampshire, New York, Northwest Territories, Oregon, Pennsylvania, Vermont, Tennessee, and Washington.