DEMOCRACY NOW!
---
Monday - Friday 8:00am - 9:00am
Hosted by: Amy Goodman and Juan Gonzalez

Web Site:
http://www.democracynow.org
Facebook:
http://www.facebook.com/democracynow
Twitter:
@DemocracyNow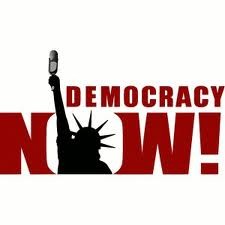 Pacifica Radio's flagship program,
Democracy Now!
is a national, daily, listener-sponsored, news hour hosted by award-winning journalists Amy Goodman and Juan Gonzalez.
Democracy Now! provides hard-hitting, independent, breaking coverage of war and peace, U.S. domestic and foreign policy, and struggles for social, racial, economic, gender and environmental justice in the U.S. and abroad.
Democracy Now! gives voice to the voiceless, broadcasting in-depth interviews with community members, activists, academics, artists and journalists shut out by the mainstream media, debates between activists and people in power, investigative reports and exclusive interviews, and on-the-ground reporting from protests and hot spots around the world.
To subscribe to Democracy Now!'s daily email digest, send an email to outreach@democracynow.org with the word Subscribe in the Subject line.
Amy Goodman
,
Host
, is an award-winning journalist and community activist.
Amy is a recipient of the George Polk Award, the Golden Reel for Best National Documentary from the National Federation of Community Broadcasters, and a Project Censored award for the radio documentary "Drilling and Killing: Chevron and Nigeria's Oil Dictatorship".
Amy has also won numerous awards for the radio documentary, "MASSACRE: The Story of East Timor," including the Robert F. Kennedy Prize for International Reporting, the Alfred I. DuPont-Columbia Silver Baton, the Armstrong Award, the Radio/Television News Directors Award, as well as awards from the Associated Press, UPI United Press International, and the Corporation for Public Broadcasting.
In 1991 Goodman and Nairn survived a massacre in East Timor in which Indonesian soldiers gunned down 270 Timorese.
Juan Gonzalez
,
Co-Host
, has been a columnist at the New York Daily News since 1988.
He has won numerous awards for his investigative reporting including the George Polk Award in 1998 and was recently elected President of the National Association of Hispanic Journalists.
Juan's most recent book "Fallout: The Environmental Consequences of the World Trade Center Collapse" documents cover-ups by EPA and government officials about health hazards at Ground Zero in New York. He is also the author of the book, "Harvest of Empire: The History of Latinos in America".
Kris Abrams
,
Senior Producer
, has worked at Democracy Now! since December, 2000.
She has reported and produced on-site for Democracy Now! on several occasions, including in Durban, South Africa for the U.N. World Conference Against Racism and Quebec City during the protests against the Free Trade Area of the Americas.
Kris graduated from Brown University in 1998 with a Bachelor of Arts in Philosophy and a Bachelors of Science in Neuroscience. She went on to earn a M.Phil (masters) in Economic and Social History from Oxford University as a Rhodes Scholar.
Mike Burke
,
Producer
, helped found the
Indypendent
, a monthly social and economic justice newspaper based out of the New York City Independent Media Center.
He is a former staff reporter at the Springfield Union News and Greenfield Recorder in Massachusetts where he also helped start and run the Flywheel Community Arts Space, a DIY music and artist space. As a freelance reporter his work has appeared in Punk Planet, Clamor, the Ashville Global Report and Left Turn.
Angie Karran
,
Producer
, is an award-winning radio and documentary video producer; her independent radio programs have been aired on the Pacifica Network and on community radio stations around the country.
She received her BA in Sociology with honors from Mills College in Oakland, California. Angie was born in Guyana South America and is the mother of three children."
Alex Wolfe
,
Producer
, has made a number of award-winning documentary and narrative works.
He won an Emmy award in 2001 for the Historical/Cultural Program for "Off the Charts" for WNET's
Egg the Arts Show
.
Other recent television pieces on Latin music include the Emmy-nominated Keeping the Beat, Puerto Rican Soul, Trovador, and Bachatero!, all for WNET television in New York.
Ana Nogueira
,
Production Intern
, has been an organizer of the international indymedia network for the past two years.
She helped form and run the New York Independent Media Center and was co-founder of the center's monthly newspaper, the
Indypendent
. Ana also played a supporting role in the formation of IMCs in South America, including Argentina, Bolivia, and Brazil, where she helped set up the radio webcast from the World Social Forum's Youth Camp in 2002.
For copies of the show, call (800) 881-2359