SATURDAY MORNING WITH THE RADIO ON
---
Saturdays, 5:00am - 6:00am (alternate weeks with Back of the Book)
Hosted by: Sidney Smith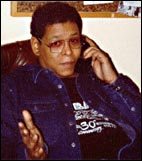 "Carrier Wave (the show's original name) was founded...
...I don't really remember when it was founded.
All I know is that Samori Marksman found me laying in a hallway and gave me a show, sometime towards the end of the Carter administration.
My powers, which derive from angels, demons and (possibly) space aliens give me the vision, indeed the clarity, or should I say, the moral hypocrisy to speak truth to power.
Or if not that, play Noel Coward songs. Or if not that, to ruminate about the ironies of being a Civil Rights-era Black Liberal in an age of anti-Semites, ethnic chauvinists and reactionary leftists. And if not that, to forthrightly (as Chairman Mao would say) expound on the ultimate necessity of just getting the hell along with each other."
Sidney Uncle Sidney
is the secret Lord of the Universe, adored by most, feared by some. My powers come from my regular intercourse with angels and demons. The act I am most proud of is the founding of the Nazareth High School UFO Club from whence my original powers come.