FREE + CHEAP NYC
---
5 minute segments throughout the day
Hosted by: Angela Church and Mayaan Schneider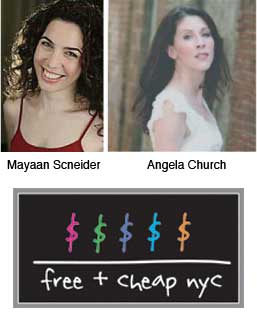 free +cheap nyc will re-join The Morning Show soon!
Hosted by
Angela Church
and
Maayan Schneider
, the two aficianados of all things free, cheap, and fun to do in the 5 burroughs, the segment on air information will be posted online on our homepage for easy access (and no having to run to get a pen while you are listening to the radio).
There will be info on events, dance concerts, music performances, indoor and outdoor films to see. There will be top picks each Thursday for what's coming up for adults, children, tourists - or if you are all of the above. There are so many festivals, parades, art openings - what's a NY-er to do?
Lot's!
And it is happening on Staten Island and in the Bronx, in Queens, Brooklyn, Manhattan and even on Long Island and in Westchester, Connecticut, and New Jersey!
ABOUT THE PRODUCERS:
Angela Church
is a New York City based actress, producer and writer. She trained as an actress at the prestigious Central School of Speech and Drama in London, England and has performed in New York, London, across the US and in Europe - both in English and French. Her production company, Milliday Productions, is currently developing a television series and new a new web series to be shot this summer. She is working in several upcoming bi-lingual productions with Les Joueurs d'Esprit in New York City.
Angela has co-written a one hour series for primetime television and completed a full length play about the nuances, love and struggles between a mother and her daughter. She continues to act in theatre, television and film.
Mayaan Schneider
was born and raised in Israel, to an Israeli-Tunisian mother and an American father. She is sometimes considered a bit too American (read: polite) for the Tunisian side of the family, as well as too Israeli (read: outspoken) for the American side. However, she loves both families and both cuisines – and spending her high school years in Atlanta, GA., made her appreciate fried okra and biscuits as well as couscous and hot dogs.
After serving in the Israeli army for two and a half years (mandatory service), studying French and Theater at the Hebrew University of Jerusalem (two majors guaranteeing a job in today's competitive market), and traveling around South America, Maayan decided to pursue her real passion and moved to New York to study Acting at the Neighborhood Playhouse – and never looked back.
She has appeared at New York's Abingdon Theatre Company, Ensemble Studio Theater, Primary Stages, The Kraine Theater, Theater Three, The Bridge Theater, and many others, as well as in various Independent and Student films.
(She lives for chocolate, so expect appropriately related events to be included in weekly best picks...)