WOMEN'S COLLECTIVE
---
First Wednesday Of The Month 10:00 PM
Hosted by: Mary Ann Miller, Emily Ngo and Prairie Miller

Web Site:
http://WbaiRadioWomen.blogspot.com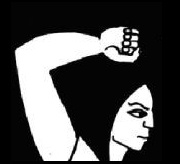 Wednesday, 10PM - 11PM

Taking Feminist Radio to the next level...
From The Women's Desk
of the Women's Collective covers the entire spectrum of political, cultural and intellectual issues crucial to women's lives, from feminism and revolutionary global sisterhood to critical aspects of movement building, the mind, body and yes, men! In the belief that debating and dialogue-ing with men, including our He Said, She Said... online column at Criticalwomen.net, is an essential component of Feminist Radio.
A unique multicultural and multi-abled gathering place for shared women's voices on the air, the Women's Collective is open to all WBAI female producers, listeners and community activists. It is also meant to provide a learning and training experience for all aspiring 'radio-active' women with a passion for covering social issues in their communities, and expressing themselves artistically on the radio.The Collective is also active in developing The WBAI Women's Desk with an online website component, and instituting Sister To Sister Station Networking with other Pacifica family stations.
For copies of the show:
Criticalwomen@gmail.com