JORDAN JOURNAL
---
Friday 3:00pm - 5:00pm
Hosted by: Howard Jordan

Web Site:
http://www.howardjordan.net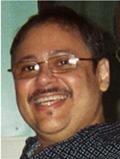 The Jordan Journal is a current event driven program that is committed to a cross-fertilization of ideas between people of color and the progressive community in the United States.
"As a self-defined internationalist and First Amendment absolutist, no issue is off the table and I endeavor to give all sides of a given controversy an airing. As such, this is not a Latino interest program, but rather, a general interest program hosted by a Latino activist.
"
- Howard Jordan