LIGHT SHOW
---
3rd Wednesday of the month 2-3pm
Hosted by: Michael G. Haskins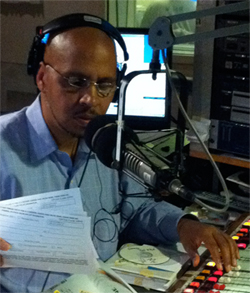 Having retained the name "Light Show" in the memory of its former host, Fred Kuhn, Michael G offers both music and topical stories.
Spinning jazz (the American Classical music) genres from avant garde to hard bop to contemporary tunes Michael reports on whatever sparks his interest within the rich cultural diversity of the city and beyond; ebony cowboys, hiking in bear country.
Michael came to WBAI as a volunteer in the mid 1980's. His interest in public affairs immediately took him to the newsroom where he began training and doing updates on the morning program. The eclectic nature of WBAI's programing encouraged him to begin a more detailed study of history. With veteran producers Dred Scott Keyes and Sally O'Brien, Michael worked on "Lynching: An American Tradition," the production he remains most proud of over his 20 year career.
During the early '90's he worked with Bernard White and Ulysses T. Good on Emanations, a program that focused on the black community locally and the broader African Diaspora. The Emanations Collective organized a serialized reading of "The Peoples History Of The United States," and invited author Howard Zinn on its inaugural broadcast. Michael G., as he is fondly known around the station, was the interim Operations Director for a year during that time as well. Michael also often worked with volunteers during pledge drives in the tally room, and dedicated untold hours to helping WBAI and Pacifica raise funds for the network's mission.
The station began looking for a new chief announcer in '96 and after a year's search and an application review committee process, Michael was awarded the position. He is the station's "afternoon host and radio guide," maintaining the station's on-air continuity.