Sandy Rebuilding And Construction Worker Safety On The Tuesday Morning News
---
- New York City 02/25/2014 by Linda Perry (WBAI)
Click the play arrow to listen to audio (Flash required).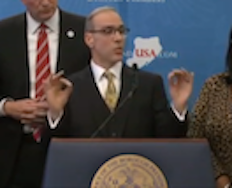 Mayor Bill de Blasio and Staten Island Borough President James Oddo held a news conference on the city's
Build it Back
program, designed to give aid to low-income homeowners and renters affected by Superstorm Sandy. And a new
report
on how Sandy rebuilding can reduce inequality in New York City was released by Alliance for a Just Rebuilding at a rally on the steps of City Hall. Also in the news, construction workers rallied at a luxury condo site where a construction worker fell from a scaffold and was severely injured. Thanks to Jessica Ramos at
BuildupNYC.org
.